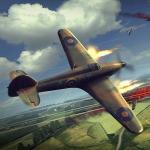 Battle of Britain
Do you know anything about Battle of Britain? It's about the historic battle between German and British air forces in the skies over the UK. Now, Friv for school will introduce you a game inspired by this event named Battle of Britain online. It is an awesome shooter game in which you play as a pilot and defend English towns against German bombers. You have four Spitfires.
Your mission is to defeat enemy bombers before they reach the end of your safe zone. When a bomber reaches the end of your safe zone, it destroys one factory with Friv games for free. You have 10 factories in total. When all factories are destroyed or all of your airplanes are shot down, you lose. Spitfires are controlled by drawing flight paths. To draw a flight path, you simply click on the Spitfire and move the mouse while still holding the mouse button. Release the mouse button to finish drawing the path. Select more than one Spitfires by clicking on them while holding the Shift key. At http://friv3play.net/, you can draw the flight path of any selected planes, the others will follow the leader. Planes shoot automatically when an enemy is in range.
And your planes are also shot when they are in the range of the enemies with friv 2018 online games. Your plane heals when flying through the green safe zone. Battle of Britain gives you an opportunity to show off your wise strategy. Build a plan and save your country at all costs. At Friv3play.net, you can find various great games to enjoy, such as Alien Attack Team!
How to play: Use your mouse to play.
friv3play.net
Rating:
5
out of
5
based on
1
user ratings