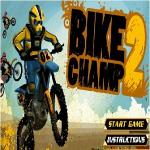 Bike Champ 2
Do not miss the chance to list the Bike Champ 2 game on your favorite games list at Friv 3games for kids today. With driving tips and in-game tutorials, you'll have the opportunity to explore the game with specific instructions. Obstacles will appear before you can identify the danger ahead. You can return to the nearest starting point if you fall due to obstacles.
Challenges are waiting for you in the front and you can explore new ways with new dangers. We also suggest that you play your favorite games similar to this game of driving a motorcycle like Bike Champ.
You do not miss the opportunity to become one of the best motorcyclists with the highest score possible through the levels of the game. The Bike Champ 2 gives you different options in each level with special motorbikes. You can upgrade your car while playing the game at http://friv3play.net/.
Be ready for new challenges today. You will have the opportunity to unlock the level with the interesting surprise only on our website. Share with friends to practice driving skills and useful lessons after each level. Are you ready to move your bike through the various challenging terrain in this game? Play at FRIV GAMES.
Controls:
Use R to start from the last checkpoint,
A for nitro,
S to brake hard,
D to jump or hop,
Arrow keys for accelerate, learn back, reserve or push forward.
Expert tips: ride like a pro and earn extra stunt points.
friv3play.net
Rating:
5
out of
5
based on
2
user ratings