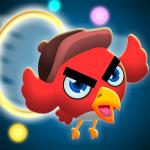 Bomber7.io
Bomber7.io is an interesting io game that you can play free anytime and anywhere at Friv 3 online. For those who love Bomberman games and everyone as well, it will be a great choice for you to enjoy your weekend or your free time. It can be both entertaining and challenging. At first, you can choose your nickname and a character to start.
Then, you will join an epic battle where everyone else will try to kill you. Yes, it's also your goal. You have to eliminate other players first before they kill you. You are taken to a huge maze in which you have to place bombs to destroy walls blocking your way at the beginning to open the way and find some useful power-ups which boost your speed, increase bomb damage and so on, then you must think tactically and try to outwit and corner your opponents to stop them escaping with your bombs. Try other hot io games of 2018 at http://friv3play.net/io
One important thing that you should remember in this Friv 2018 games is that you must stay away from your bomb and your opponent's bomb to avoid losing any lives. While collecting power-ups, you should watch out for negative ones because they have the bad effect on you.
Now, are you confident to win this battle? Drop a bomb next to another player, run away and watch it explode. Try your best to be the leader as long as you can in Bomber7.io online game. Good luck!. If you are looking for more games related to this one, why don't you play Bonk.io or Speedboats.io at Friv3play.net. Enjoy!
How to play: Use arrow keys to move, spacebar to place your bombs and AZE to use special items.
friv3play.net
Rating:
5
out of
5
based on
1
user ratings