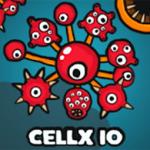 Cellx .io
It's time to warm up. Join the battle among cell and become the biggest cell army to dominate the leaderboard. Cellx.io is a cool and quite weird multiplayer IO game that definitely brings you joy and relaxing moment. Here at friv 3 online, you compete against other players from all over the world to get the title of the biggest cell ever. You start the game as a single cell and at the very first moment, you must move around the map to collect cells aiming to build a powerful cell army. As you collect cells, your army becomes stronger, so you can attack your enemies.
However, you should avoid other players no matter what they are big or small as you are a newbie. On http://friv3play.net/., you are the center cell while other cells that you've collected are cell members. When you get shot, they will fall apart until death. So, in the beginning, let's stay away from them and pay attention to collecting cells. As you grow big, you become unstoppable and give other players no chance to harm you. Your army will shoot automatically when enemies appear. Besides, other gamers are not only your enemy but those mouths with sharp teeth.
Don't move near them because they are dangerous and they can suck your whole army and you die. Everyone has an equal chance to become the winner. If you know how to take advantage of the chance, you will win the battle. The result depends on how many cells you collected and how many enemies you killed. When you was a single cell, don't care about anything except for collecting cell and avoiding enemies. When you are big enough, you can start fighting and dominate the battlefield. New IO games added to our site regularly, so don't miss the chance to play some of the best choices such as TheLast .io and Crazy Jump
Instructions: Use your left mouse to move your cell.
friv3play.net
Rating:
5
out of
5
based on
1
user ratings