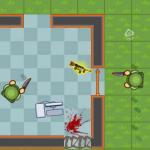 Crazynite .io
For all of you, those love Fortnite or any Battle Royale game, let's challenge your survival and shooting skills in one of the best clones that you can play online anytime called Crazynite.io. It's a multiplayer online battle royale IO games at friv3 2019 has similar gameplay with the hit one that you has usually played. You skydive into the battlefield full of other players as well as deadly obstacles. Weapons play an important role in winning. However, choosing an ideal place to land is important too.
You should land on somewhere that no one is there. If you land next to other players, you will be shot down immediately. So try to land on an idea place on http://friv3play.net/. In addition, the first thing you have to do is to move around and pick up some weapons. There are many choices of guns scattered around the map such as a knife, rocket launcher, cannon, shotgun, machine gun and more. Use the one suit your style the best and start hunting down your opponent to become the last man standing. Try to kill as many players as possible to level up and unlock new characters such as a butcher, ninja, hunter, sniper and more.
Combining between defense and attack is the best strategy to your keep your life lasting longer. Each match just lasts over 10 minutes, so you should take advantage of the environment to cover and weapons to beat your opponents. Let's see what is your highest rank in the leaderboard. Good luck! Enjoy more games available on our sites such as ShipWrecked.space and Squadd.io.
Controls:
Use WASD/arrow keys to move.
Mouse to aim and shoot.
E to pick up items.
Spacebar to land faster.
friv3play.net
Rating:
4.25
out of
5
based on
4
user ratings