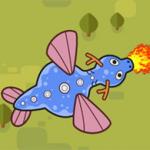 Drakes .io
Jump in an epic battle among the fiercest dragons from all over the world in one of the best multiplayer IO games at http://friv3play.net/ called Drakes.io. It's time to burn everything under your wings. You start the game by a little dragon. To become bigger than others and be the biggest and mightiest one, you fire on everything in the land including houses, forests, troops and so on. There is no weapon here but this game is really challenging. Just by using fire, will you able to win?
Burn all things on your view to get bigger and level up, even it is a tree or a knight. However, don't focus on firing too much and forget about your opponents. Those are bigger than you also can kill you easily, so stay away from them. Move to the edge of the map to keep yourself in the safe zone. When you are big enough, you can attack those who are smaller than you. Grill them with fire as a steak.
On game friv, you are easy to burn small things than huge things. The big ones require you to spend more time destroying. At the time, other players can take the chance to kill you. You must be careful. Watch out all direction and run away the bigger ones immediately when the danger is coming. Try hard to survive as long as possible. After a certain amount of time, the match ends and the winner will show up. Is it you or another dragon? Have a great time! More IO games are waiting for you to explore on our site. Some of the best choices are Deadwalk .io and Black Hole .io
How to play: Fly with your mouse.
friv3play.net
Rating:
4.5
out of
5
based on
2
user ratings