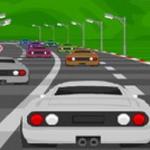 Free Gear
Free Gear is an online game that you can play on http://friv3play.net/ for free. Let the cheering crowd and the roaring of the engines put you in a racing mood because the competitive game Free Gear is here! Are you ready to hit the gas and start driving in your sports car? In this game, visit different tracks and try to beat your opponents and win to earn the badge of the most prestigious driver! Put on your shades, adjust your seat, and get ready to speed your way along amazing tracks.
With its retro graphics and entertaining gameplay, Free Gear will please every vehicle enthusiast with its cars and different racing options! This game offers two different race modes that you can try! Play a quick race to get warmed up or gather your courage and let your ambition run rampant as you start the engine to join the challenging tournaments!
As the player, your objective in the game is to join the world's largest independent racing tournament! Your main aim is to place at least third in the five tournaments presented in the game. You can only enter the next tournament if you've qualified in the previous one. Winning will not only unlock the next tournament but will also award you with credits that you can spend on upgrades like handling, acceleration, nitro, and top speed. You can also change the colour of your car! To win credits, you have to finish in 1st, 2nd, or 3rd place. Each tournament has 4 different races and you can adjust the options of each race individually. You can change the weather, visibility, and the number of laps
Don't forget to add M-acceleration and Ford F 350 Differences to your favorite game list and play them in your spare time.
Control: Use arrow keys to control your racing car. Press C to use nitro boost. If you use manual transmission press Z to gear up and X to gear down
friv3play.net
Rating:
3.1666666666667
out of
5
based on
6
user ratings