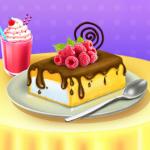 Homemade Desserts Cooking
Homemade Desserts Cooking is an interesting cooking game challenge your cooking skills in making a delicious cake. With the detailed instructions, even kids can play. Simple click on there, tapping on those, you can complete the mission at ease. The game is divided into several parts. Before cooking, you have to go to the supermarket to purchase needed cooking ingredients at friv3 girls game. Pushing your shopping cart around the supermarket and buying some stuff in your shopping list such as sugar, mango, blueberry and more.
After that, you return home. However, you soon find yourself have to clean the kitchen because it looks like a mess. What happened? Garbages are everywhere. You can cook in a place like that. It's time to clean up. Collect garbages and put it into the trash can, sweep the floor, clean the water on the floor, clean the window, fridge and eliminate spider nets. Well, it now looks like a true kitchen where to cook the delicious meals. Finally, you can start cooking. Bring out all the applications and ingredients. You peel the mango firstly, chop it into small pieces. Put it to a side.
Now, you cook the sugar water and pour it into the mixer with mango, grind the ingredients into the smooth mixture. Then, you pour the mixture into the mold and bake it. On http://friv3play.net/, you can even decorate your cake with a layer of chocolate or syrup, then put strawberries, grapes or 2 slices of orange on top. It's up to you. Do you enjoy the cooking time? Play more to honk your cooking skills with Ariel's Love Breakfast For Eric and Ice Cream Memory.
How to play: Cleaning and cooking by using your mouse.
friv3play.net
Rating:
3
out of
5
based on
5
user ratings