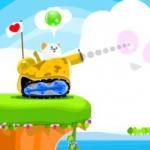 Kiss Cat
Are there any cats don't like fish? Cat loves eating fish is a fact that everyone knows. Fish is the favorite food of cat. However, a white cat in Kiss Cat has a pure love with fish. She wants to rescue all the fish are trapped in the bubble. She can't complete this mission without your help. Let's release multicolored fish at friv4school 2020. All you need to do is to use your cannon to shoot at the bubbles and free the fish inside. It sounds easy and simple, but the fact that it's insanely challenging.
You have to aim and shoot accurately to break the bubble. However, the color of the bullet must match with the color of the fish, otherwise, you can't save the fish. In some first levels, you will find it easy to beat the levels but the difficulty increases significantly as you level up. These are more obstacles appear to block your eye. You must adjust the right angle and right time to shoot to get the best result. The game offers various levels with different challenges await you ahead. On http://friv3play.net/, you must finish the current stage to unlock the next level.
Don't waste your bullet. Use fewer bullets to get more stars. After a fish is saved, it will approach the cat and give the cat a sweet kiss as gratitude. The cat is really happy and she will continue bringing the freedom to other fish. Hope you have fun like her. All more games to your favorite game list with Piggy in the Puddle 3 and Snoring 3: Treasure Island.
Instructions: Rescue the fish by aiming and shooting with your left mouse.
friv3play.net
Rating:
1
out of
5
based on
3
user ratings