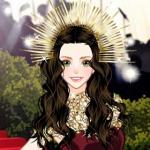 Met Gala 2018 Anime
You are a famous stylist specialized on helping the superstars become more gorgeous and stand out. When they walk in the red carpet, they need your help, when they enter a special event, they also need your help and they can't go to the awards ceremony without your help. Yes, you are the trustful stylist of the showbiz.
Met Gala 2018 is coming. And you have an important customer among your customers. She is a superstar. She looks stunning but she needs more from your magic hands. In Met Gala 2018 Anime at friv3 girls games, making her more shining as a queen walking in the red carpet is your mission. In your studio, you have prepared the latest fashion collection for gown, event and more. There are various styles here. All outfits are gorgeous and can turn a normal girl into a princess, a queen, and even a fairy. It's all up to you.
For the beautiful girl today, she needs to impress all media, audients and so on with her beauty. First of all, let's start choosing a stunning dress. There are so many styles so to make sure which one suits her the best on http://friv3play.net/, you let her have some time to try on those you have chosen in advance. The white dress makes her become an angle while the black dress makes her become as powerful as a queen. Which dress do you like the most?
After picking out a perfect outfit, it's time to mix and match it with footwear and accessories. Give her earrings, necklace, bracelet and a crown. Now, she is ready to shine. Need more dress-up games? Welcome to Tris Vip Dolly Makeup and Frozen Sisters Winter Escape.
Controls: Choose fashion items by using your mouse.
friv3play.net
Rating:
4
out of
5
based on
1
user ratings