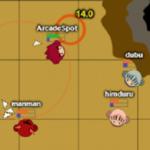 Mwar.io
Mwar.io is the .io game which is playable friv 3 online. You are a mystical mage capable of casting different spells to defeat your enemies. Goal of Mwar io is killing all the opponents on the arena. For every fight you'll receive bonus points that can be spent for buying new spells. Try to be the last man standing to win the game and prove you are the greatest mage of them all.
Two modes available:
FFA - play on your own against all the other players
Team mode - plat in team and fight against opposite team
You can eliminate opponents by depleting their health using your magic of by pushing them out of bounds. Using your tactics and performing critical magic combos is the ingredients to victory in this game. Be careful! The play area will constantly decrease meaning there will be less area to move. Good luck!
Here are some recommendations for you: Legions.io and ProSpiti.io. You can also find many other genres and a lot of nice games with a few clicks at our site http://friv3play.net/
Controls
Right-click to move
QWERDFG to cast a spell
P to open spells shop
O to open items shop
Enter to chat
Z to access the scoreboard
Esc to open the menu
friv3play.net
Rating:
5
out of
5
based on
2
user ratings