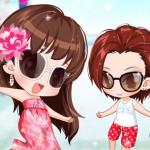 Pink Girls
It's time to show off your sense of fashion in one of the best Friv3play girls games. Enter Pink Girls online and customize your own character of your choice. Before starting, let's have a small test. What is your favorite color? Which fashion styles do you like? Almost girls love pink. However, not everyone matches pink. While there are some many shades in pink, you will find it hard to choose the right shade of pink suit you the best.
In this game, you will have a chance to experiment with different shades of pink by beautifying your own pink girls. 2 lovely characters are waiting for you to help them pick out the best makeup and fashion style. With many different choices of color in brush, lipstick, eyeshadow, eye color and more, you can create several cute characters. Just follow your imagination to mix and match the right colors the make to the best result. Don't hesitate to try something unique. Show your style in your character. After makeup is done. You change their hairstyle and start the most important part is to dress up.
The game offers dynamic style clothing suit the summer time. You can mix and match tank top with short or skirt or even a maxi dress and so on. Then, choose from tons of accessories such as a hat, headband, necklace, earrings and more to make them stand out among the crowd. Are you satisfied with your choice? If not or you want to try different outfits, let's visit http://friv3play.net/ and play again. Besides, you can explore more about the fashion world with various amazing games like Lagoona And Gil Dress Up and Princess Anna Hair Salon. How to play: Choosing items by using your left mouse.
friv3play.net
Rating:
4
out of
5
based on
2
user ratings