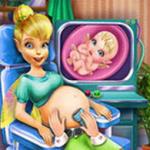 Pixie Pregnant Check Up
Pixie is a beautiful fairy. After getting married for a while, she is pregnant. Congratulate! Everyone is happy for them. As a pregnant woman, she needs to check up regularly to make sure nothing bad happens. She has a check-up appointment with her doctor today and her doctor is you. In Pixie Pregnant Check Up at http://friv3play.net/, you are in charge of checking her health and giving her some great advice that she should apply during pregnancy.
When she arrives, help her change her clothes. After that, you use a thermometer to measure Pixie's body temperature to find out whether she has a fever or not. It's 37 degrees Celsius. What a relief! Next, you use a stethoscope to measure heartbeat. Now, you measure the size of her tummy and start ultrasound. Wow! her baby looks super healthy and the baby has wings too. it's baby's turn to measure her or his height and weight. On friv free games, you and she have a deep talk about her baby.
Everything is great. There is nothing wrong with both of them. However, Pixie needs to drink some vitamins. Make sure she takes it at the right time. Staying at home all day is boring. Pixie wants to do something fun. She decided to draw a fake tattoo in her tummy. Let's help her choose a perfect model and color. Thank you, she has a great day. What about you? Experience more great moment with other Disney princesses such as Design My Stylish Crop Top and Princess Black Wedding Dress
How to play: Use your mouse to help Pixie checkup.
friv3play.net
Rating:
4.6666666666667
out of
5
based on
3
user ratings