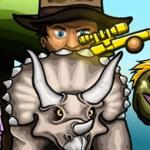 Raids .io
Survival game combine with shooting and IO game created an awesome game called Raids .io. It's a thrilling multiplayer battle royale IO game in which the aim of all players is to become the last survivor. As other battle royale games, you have players, you have to fight against many players around the world to become the last man standing. They are fierce, combative and great, so if you are not good at this genre, you hardly become the winner but don't worry, practice makes perfect and your skills will improve over time.
Here at http://friv3play.net/, you enter an epic battlefield full of enemies. The first thing you have to do is to move around and find some boxes. You punch them to collect all items inside. It is a unique feature of this game compared to other games. Instead of picking up items and weapons scattered around the battlefield, you discover hidden items inside many wooden crates on friv 3 online. Search and collect until your inventory is filled with weapons and useful items, then you can look for your enemies and defeat them with a wisely strategy and powerful weapons.
Use the wall or tree to avoid the attack from enemies and make sure you are always in the safe zome. Why? Because the map shrinks over time. It forces players to combat directly instead of hiding and waiting. At that moment, you should take advantage of what you have and the terrain to conquer the battle. How many enemies can you kill? What is your highest rank in the leaderboard? Play and check out other awesome games like this one such as Crazynite .io and Crazysteve.io
Controls:

Move by using arrow keys or WASD, aim by using your mouse, shoot and punch by using your left click, pick up items with E and reload the game with R.
friv3play.net
Rating:
5
out of
5
based on
1
user ratings