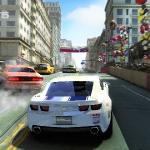 Red Driver 5
It's a race between your vehicle and a motorcycle, use nitro and avoid other vehicles to beat your opponent when you play Red Driver 5 online at Friv 3 online games. Collect and get the nitro on the way you move. You will finish the task when you win this level. This exciting game has 13 game modes, 72 missions and 4 cities for players to explore.
Red Driver 5 is a dangerous driving game where the player needs to cross the track with other cars traveling on the road and win the opponent. Friv 2018 games select this exciting game for all people who love the racing car game or want to become the winner at every level.
You will not know what awaits you in front. Carefully move and slowly conquer the track before you want to accelerate. Other simple racing games that you can join as a real racer at Friv3play.net such as Highway Squad. The race will have different difficulties and you need to win motorcyclists.
Are you ready for new challenges? Move flexibly and avoid collisions with other cars on the road. You can save some tips when playing this game at Friv games. Ready for the new racing car game and collect all the nitro you need to use on the race.
Controls: Using the arrow keys to move your car. Press up arrow when you want to accelerate using nitro gas.
friv3play.net
Rating:
5
out of
5
based on
1
user ratings