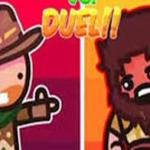 Revenge Of The Kid
Revenge Of The Kid is an online game that you can play on http://friv3play.net/. Fifteen years ago. The kid was betrayed by his best friends and forced to leave home. Today, he is coming back for revenge! You need to control character to kill all the enemies and deserve the final victory.
You are armed with a pistol, but you can collect other weapons such as a shotgun and rifle. Try and eliminate all the enemies on a level and avoid being shot – you only have a limited amount of health so shoot quickly and aim carefully!
You can also shoot your enemies bullets in mid-air so don't simply shoot directly at the other characters! You may also have to shot levers and switches to open new areas, or deflect bullets to progress. The boss fights are intense 1on1 showdowns and you must pay attention to the signals.
Can you take revenge on the Condor Crayon Gang?
Start your revenge.
We also suggest similar games with this friv game that players of different ages can join and relax when having free time like Ragdoll Achievement and Morplee. Please feel free after every hour of work is stressful.
friv3play.net
Rating:
5
out of
5
based on
5
user ratings