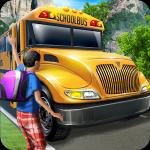 School Bus License 3
You apply for a job as a school bus driver, but firstly, you have to pass the school bus license. This test is really hard. How can you get it? Are you confident to succeed the test?. In School Bus License 3 at Friv games online, you are going to have a test and you must complete every part of the test. There are 17 levels at here.
Each level requires you to complete a mission. The difficulty increases significantly as the game processes. You are brought to a different environment in each stage. At level 1, everything is easy, you just have to reverse out of the parked buses and stop at the goal. Look around and control the bus carefully because if you make any single mistake, the examiner will appear and you fail.
Here, you should follow the arrows through the figures and courses and stop at the finish. Don't forget to avoid the moving obstacles. School Bus License 3 offers so many tasks that you have to complete, however, picking up the kids and dropping them off at school is the most important one. You have to make sure that you finish each level within 1 minute. If not, you have to play again. The interesting thing about this game is that you don't need to finish a level to unlock another one. You have the right to pick any levels to play first.
However, it's a great idea to start from the first level. You should play in turn to get used to the rule and gameplay. Hope you have a great time at here. http://friv3play.net/ has a wide range of interesting games that you should try. Some of them are M-acceleration.
How to play:
Control the bus with arrow keys and brake with spacebar.
friv3play.net
Rating:
3.25
out of
5
based on
4
user ratings