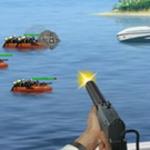 Speedboat Shooting
Speedboat Shooting is an online game that you can play on friv 3 for free.
Enemy chasers keep after a speedboat like crazy, ready to shoot it down. So it's up to you to guard the race boat from all attackers by using a variety of weapons. Aim and shoot precisely with your rifle to kill the baddies and use money to purchase new weapons and upgrades. Someone pay you to protect him. So, just kill your enemies and protect your aim boat. You can do it!
Guard the speedboat against the attackers!
In addition, other special games similar to this game are also updated for game players in their free time such as Ragdoll Achievement and Revenge Of The Kid. You will select those games and Save to your favorite game list to relax in your free time?
Have a good time at http://friv3play.net/!
Control: Controls: Mouse = Aim / Shoot, Space = Reload, Z = Grenade, X = Release Net, C = Release Mines, 1-5 = Use Air Support
friv3play.net
Rating:
5
out of
5
based on
1
user ratings