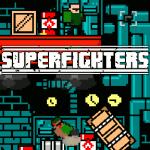 Super fighters
Super fighters: Enter the dangerous arena of skilled Super Fighters to fight against enemies in different size.
We continue publishing full of struggle games in Friv3play.net. Super fighters game proceeds in different arenas. Start the game by using "Play" button. Click "2 Player" section to play this game with your friend together. If you select "Vs. Mode", your friend will also be an opponent to you. You can make a teamwork using "Stage Mode" selection with your friend together against to enemies. You'll have various weapons and add strength to your strength. By the way, keep away yourself from T.N.T boxes during the game. When these boxes exploded, it will damage you hard if you're near any of them. Player 1 uses "Arrow Keys" and "N,M" and "," keys to play. Player 2 uses "W,A,S,D" keys and "1,2,3,4" keys to play. You can take a look at scoreboard with "TAB" key to get information about progress. And you can use "Space Bar" button to restart the game at the end.
Super fighters is one of our selected Action Games on Friv 3. Also very popular on this website right now are Crazy Flasher 4 and Dragon Ball Fierce Fighting 4. We hope you have fun.
friv3play.net
Rating:
5
out of
5
based on
1
user ratings