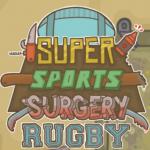 Super Sports Surgery Rugby
Your life changes from today. You aren't a sausage seller anymore. Everyone finds out that you are a great doctor who has great technique. You can cure all cases with your unconventional tools related to food and kitchen equipment. Now, 10 patients are waiting for you. Here in Super Sports Surgery Rugby at Friv3play online game, your mission is to treat your patients as a true doctor.
Each patient has a different problem. For example, in the first case, you must get out 7 items of 7 cuts and cure 11 of 11 cuts. You are going to use pliers to extract parts from wounds, drip wounds with candles, kill bugs with the toothpick, use pliers to put dead bugs aways, use a knife to get inside or cut off, use sausage to change the body parts and brush pimples, use mustard to heal the fire injuries and bruises. Have you ever used ketchup to pulse higher or use a toothpick to stop blood from the artery or use pliers to put artery inside? If not, you will have a chance to try here.
Ketchup, sausage, mustard are the food we usually eat, but in this game, they are not just food but also the valuable medications. They are sure to amaze you with their miracle use. Each patient as each mission requires you to use a different curing technique and tools to treat. Open the instruction book and you will know how to perform surgeries in the right way. This game surely brings the most amazing experience ever. Prove you are a great doctor now. If you're looking for more games related to this one, please check out Ironman Doctor and Hospital Frenzy 2 on http://friv3play.net/.
How to play: Perform surgeries by using your mouse.

friv3play.net
Rating:
2
out of
5
based on
1
user ratings