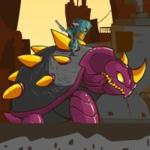 Ultimate Monster Runner
Your base is a giant tortoise has a time bomb which reduces its life periodically, you should upgrade and protect it at all cost to reach the maximum distance and win the game. Welcome to Ultimate Monster Runner - one of the best combinations of shooting game and action game at Friv3play online. At here, you ride your tortoise and jump into the battlefield where a horde of enemies is trying to stop your movement and kill you. Of course, you won't let it happen. With powerful weapons and strong base, you enter the center of the battle as a god.
You use gun and launch rocket to kill enemies both in the air and ground. They will not stop firing you. However, you can destroy their bullets that are coming towards by shooting them. Quickly attack them before they attack you. Enemies drop coins when they die. You collect coins to upgrade some stats of your strength, weapons, base and more. The more you upgrade, the stronger you are. Don't miss any pennies. This useful stuff makes you stronger and performs better. Try to survive as long as you can. Though you are alone and the enemies are crowded, you are not weaker than them. So don't worry.
Move forwards without hesitate and lets them know who is the true boss here. If they want to stop you, they need to be stronger. Otherwise, you can win over them with a few skills. Don't forget to count how many enemies can you shoot down. It's a lot for sure. More action games are available on our website. Click on http://friv3play.net/ and choose whatever you're fond of like Pirates Vs Ninjas and Dead Zone Sniper.
How to play: Use WASD/ arrow keys to move, mouse to aim and shoot.
friv3play.net
Rating:
4.375
out of
5
based on
8
user ratings