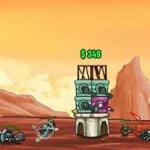 Wasteland Siege
A lot of enemies envy because you have a solid tower. They failed in their plan to trick you from leaving the tower to take over it. Then, they decided to attack your tower to forge you to leave this place. Use powerful weapons and troops to stop them before it's too late. 30 challenging levels in Wasteland Siege are waiting for you at http://friv3play.net/
Don't hesitate anymore. Let's fight and lets them know it's not simple to occupy your tower. Enemies are more powerful as the game processes and you unlock more weapons to deal with them. However, only weapons cannot defeat them. You also have to plan a strategy on combining these weapons and upgrading them. Here are some tips that you should apply to beat the evil creatures in each stage on Friv 3 online. Firstly, build more guns with laser attacks to deal with many armored enemies. Secondly, if you can't eliminate enemies right away with guns, you can hire guards to block them to save the tower from being damaged. Thirdly, when the tower will take the damage, defensive blocks can be very useful in this situation.
They also improve guard health, armor and enemy shield stats to make them more durable. Fourthly, each weapon has its own abilities and weaknesses. Finally, upgrade your weapons and guards regularly. You will learn more tips during the battle and through the in-game tips. Follow these tips, you surely win over your enemies. Check out more games have similar gameplay for free such as PUBG PIXEL and Flap Up
Instructions: Build and upgrade your weapons by using your left mouse.
friv3play.net
Rating:
2
out of
5
based on
1
user ratings