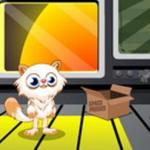 Wentworth
Wentworth is an online game that you can play on http://friv3play.net/ for free. After accidentally sleeping for six months, you must now help a cat make up for lost time in order to keep its job in this point-and-click adventure.
While on a mission to the planet below, Wentworth the space cat inadvertently awakens a monstrous forest Golem. Now using the magic of the fairy world you must help him defeat the creature and restore order to the forest.
Point and click with the mouse to explore your environment and interact with items and characters. Inventory items are in the upper left corner. Click on them to arm them and then click the environment to use that item.
If you prefer a private server to enjoy the game with your friends, feel free to create one on your own! Don't refrain yourself from exploring the possibilities with other gaming selections like Icegirl Fireboy Forest Energy and Trollface Quest!
Control: Mouse
friv3play.net
Rating:
2
out of
5
based on
1
user ratings