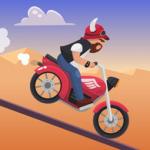 Biker Lane
Keep balance, control the speed and time is what you have to care about to win in a racing game called Baker Lane at http://friv3play.net/. Instead of controlling a hot sports car, you will drive your cool motorbike in various tracks full of ramps. Here, you must race against the time instead of other players. It seems to be easy but hard as hell because you have to control the balance, speed and time.
Drive to the finish line at the shortest time without hitting anything. Dealing with those ramps is not easy. Your motorbike may lean forwards so you have to do everything you can to avoid hitting the road. That leads to your motorcycle being exploded on friv online free. The stars play as money in the game. You get stars depending on how long it takes you to the finish line. The less time you use, the more stars you have. With all the stars you have collected, you can buy new and cool motorbikes in the shop.
As you level up, there are more challenges waiting for you ahead. You must jump over the gaps and so on. Basically, it's a simple but fun and challenging driving game with easy to play but hard to master gameplay. You may find it hard in the beginning but after completing some levels, you will get familiar and have the best result. Play more to discover more interesting things. Besides, you also can experience other choices of games for free that are similar to this one such as Moto X3M 4: Winter and BMX Master
Instructions: X to boost, Z to brake, left arrow key to lean backward, right arrow key to lean forward.
friv3play.net
Rating:
3.2
out of
5
based on
5
user ratings