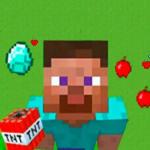 Crazysteve.io
Do you love Minecraft? Let's meet famous Steve one again in a different game called CrazySteve.io. It's a fun and addicting multiplayer IO game that you can play any time for free at Friv 3 IO games. Your ultimate goal is to score as many points as possible and be the coolest. To make it come true, you need to collect as diamonds and apples that appear on the map as possible. They make you stronger and bigger.
Diamonds give you more experience than apples but apples help you recover your health. Kill your rivals with TNT and collect diamonds dropping from them. You move around the map and shoot down your opponents with the bows or attack with the sword or use many weapons in other ways to defeat other players on http://friv3play.net/. After that, you take the diamonds from dead bodies for yourself. However, you should be careful because you can harm yourself when you place TNTs or use weapons. Place TNT strategically to trap other players and kill them.
When leveling up, you can collect more apples and diamonds but at the same time, you gradually slow down and become more vulnerable to attacks those who are smaller than you. Therefore, it can say that everything has two sides. Everything has weaknesses and strength. Here, not only diamonds and apples, but you also collect different helmets and wear them as well as sit on the cart to be more protected. Let's fight and become the king of the combat. Show other players how a true king will be. Have fun with more io games such as Yumy.io and Mwar.io.
Instructions: Use your mouse to move and aim, left mouse button to attack.
friv3play.net
Rating:
4.6
out of
5
based on
5
user ratings