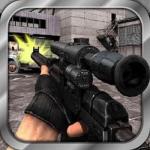 Dead Zone Sniper
What do you expect in an FPS? Whatever you want to get in a great first-person sniper shooting game is met in Dead Zone Sniper. Here at Friv3play online game, you will experience the best shooting moment like never before. You wake up in an empty city. Of course, you don't know why. However, with weapons and gear are equipped, you must fight against the yellow ones who try to kill you.
Standing on a rooftop of a building in the center of this ruined city, you have to save your life alone, face various enemies. They are constantly shooting at you. In a dangerous situation, you need to hide behind any cover found around to dodge the bullets from the enemies. Aim and shoot precisely to eliminate them all before you get hit. Defeat them all to conquer every level within 2 minutes. If your enemies take you down, you will respawn and start the action from the beginning. After passing a level, your health and ammo will automatically refill, so let's make a rain of bullet to your enemies. Move around the rooftop and find your targets, then send them to the hell. You must careful. You not only can die because of the bullets from your enemies but also because of falling down from the rooftop. You move carefully and watch out everything around you.
This amazing FPS is not only one option that you can play at http://friv3play.net/. There are many other choices that you may not want to miss such as Strike Force Heroes 2 and Military Wars Strike. Don't hesitate to challenge yourself there. You will have a great gaming experience with them.
How to play: Use your mouse to aim and shoot, arrow keys to move, Spacebar to jump, C to crouch and Shift to sprint.
friv3play.net
Rating:
4.7777777777778
out of
5
based on
9
user ratings