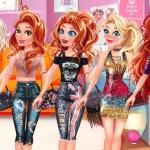 Disney Clothes Swap
Every Disney famous princess is a fashion icon with a different style. No one looks like each other. All of them are stylish, stunning and they always catch up with the latest trend. Today, they want to exchange clothes for each other to try a different style and explore the fashion taste of each one. Can you help them? In Disney Clothes Swap at http://friv3play.net/, what you need to do is to choose an outfit of this princess for that princess.
For example, you can help Anna try outfit of Moana or Rapunzel and so on. A huge collection of fashion items of each princess are available for you to mix and match. The combination is endless. You will not be limited in time and choice. Just feel free to express your fashion taste and help each princess explore the style of each other on friv 3 games. From hairstyle to accessories and outfit, let's refresh each princess with a new style. Change them from head to toe.
They won't bother when someone in their BFF group tries on their fashion items because they are the best friend. How do they look like with their best friend's style? It's all up to you. Change them, renew them, refresh them as the way you like. They get a new look and you have fun and get inspired to create various styles. Immerse yourself in a rich fashion world and enjoy more unforgettable moments with other dress up games such as Disney Prom Gala
Instructions: Swap their styles by using your mouse.
friv3play.net
Rating:
5
out of
5
based on
1
user ratings