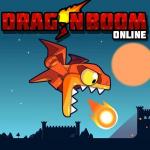 Drag'n'boom Online
Now, you can play Drag'n'boom Online for free at http://friv3play.net/. It's a fun classic arcade-style game offering various level to get through. The little dragon is in a period of rebellion. He wanted to burn down both the kingdom and the evil warriors who wanted to harm it. You won't choose the side of human but you will help little dragon burn everything in his path. This game is a great choice to relieve anger.
Your dragon auto shoot, you just control him to jump and fly. You can obtain 3 stars in each level if you complete it perfectly on Friv 3 play. To get 3 stars in every level, you must simply complete the level, go through the entire level without getting any damage and defeat all enemies. Make sure you don't miss any single enemy. Of course, the kingdom has a strong army and defense. They place traps and troops everywhere with the aim to take the little dragon down, so you must be careful, dodge every deadly obstacle.
Besides focusing on attacking, you also collect coins during a level. Coins are used to buy some cool items in the store to customize your dragon. Remember that you have only 4 lives in each battle. So let's defeat enemies before you're killed. You lose a life every time you take a hit from an enemy's attack. If you lose all of your lives, the game is over and you have to play that level again.
Simple but challenging, let's see how can you destroy this kingdom. Besides this game, Cap Boy Run and Z Day Shootout are two awesome games that you are highly recommended to try.
Control:

Use your mouse to jump and fly.
friv3play.net
Rating:
5
out of
5
based on
1
user ratings