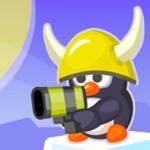 Emperors On Ice
The poles are melting. Your mission is to keep out unwelcome guests floating away. More troubles are coming from the east. Make sure not to hit any civilians. 2 suspected terrorists with obnoxious clothing choice have been spotted. Take them out. Kill enemies from east and west. There are so many missions waiting for you in Emperors On Ice at http://friv3play.net/. Are you ready for the battle for glory and territory?
Let's jump in the battlefield and show to the invaders that it's not easy to invade your land. It's a cool and fun shooting game in which you have to complete a wide range of missions. The new mission will be revealed after you finish the current one. you may never step into any battlefield like this one for sure. It looks like you and your enemies are standing in the global which is around the battlefield instead of a flat one. One tip you should check out is that you use the first shot as an exploratory shot. It may hit the target or not.
Then, you follow that shot to adjust the angle and power for the next shot on Friv 2019. By doing that, you will hit your enemies all the time without missing any shots. As you level up, the missions are more challenging. You may deal with more than one enemies at the same time and there will be obstacles blocking your shots. After each mission, you can upgrade one of these stats including damage, buddy, iceberg, and health to enhance your character. Have a great fighting time and good luck. Try hard to protect your territory, then check out more amazing games such as Epic Cube Roll and Slime Maker
Instructions: Use your mouse to aim and release to shoot.
friv3play.net
Rating:
5
out of
5
based on
1
user ratings