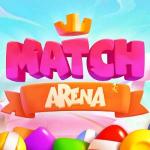 Match Arena
You may have played a lot of match-3 games before but have you ever competed against other online players in multiplayer match-3 matches? This time is a chance for you to try. Match Arena is an interesting and amazing match-3 puzzle game in which you won't play online but face other players to find out who has the higher score. Here at Friv puzzle games, you must complete a certain mission while defeating your opponents. The mission may be to collects some carrots or break the box and so on.
Multiplayer factor is the unique feature of this game, bring an amazing experience that you have never had before. You are no longer play in a boring way but raise your competitive spirit to win over your opponent. On http://friv3play.net/, you match more than 3 of the same color items to eliminate them. With more than 4 items, you get useful power-ups to have you finish the level easier. Remember that you have a certain number of moves in each level, therefore, you must think and observe carefully about each move you make to get the best result.
Besides, you can watch what your opponents are doing in real time. Let's switch the same items, collect as many carrots, grass and other things to win. After 5 wins in a row, you are rewarded with a precious chest full of coins, gems, and power-ups. This game provides an awesome twist on the match-3 game genre. Let's see how many wins do you have in a row? Good luck and have a great time! Train your brain or just simply have fun with other interesting choices such as Candy Blocks and Crazy Balls.
Instructions: Match the same color items with your mouse.
friv3play.net
Rating:
3
out of
5
based on
4
user ratings