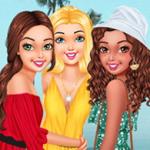 Spring Break Besties
What do you usually do in your spring break vacation? Most people will choose to go somewhere to have a fun and relaxing time and our beautiful Besties girls are not the exception. They are looking forward to this Spring Break vacation and finally, it's here. They have planned for a trip of a lifetime for a long time. Now, it's time to make it come true. Nothing is better than spending time with best friends. Our girls start choosing outfits and enjoy the vacation together in Spring Break Besties at http://friv3play.net/
Let's help them finish what they haven't done. They need your help with preparing outfits. Which fashion styles suit this occasion? Open their wardrobe and discover now. Each of them needs only one outfit. So, your mission is to choose the best one for each of them. They must be different because each of them is unique. The weather is nice. They can wear shorts, tank top, crop top, jeans, dress, skirt and more. All are great. Make sure you help them try all outfits before making decisions. By doing that, you won't miss anything awesome.
On friv free games, choose an outfit, mix and match with accessories and change hairstyle too. After that, help them take a photo in the attractive destination that they come and send this photo to their friend. But firstly, let's decorate it with a framework and effects to make the photo greater. Then, add text and the message. Finally, put it on a nice envelope and send it. They have a great spring break vacation. What about you? Join more adventures with other characters in Rapunzel's Spring Vlog and Elsa Sweet Vs Cool Style
Controls: Use your mouse to pick out the best outfit for each girl.
friv3play.net
Rating:
4.5
out of
5
based on
4
user ratings