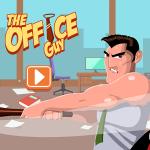 The Office Guy
You are a person who loves to play action games? Are you finding an attractive action game to challenge your fighting skills? Congratulations! Because The Office Guy game at Friv for kids will be the best choice for you here. Warning! This game contains some violent pictures and content. It isn't suitable for children, so you should consider before playing to avoid access to negative effects on future development.
In the context of a stifling workplace, you always have to get criticism from your boss. In the meantime, you have tried your best to work and complete the project. However, your boss still does not feel satisfied and accept your project. What do you have to do? Kill your boss and destroy your office right now!
After killing your boss, you will be caught by police and guards everywhere. You have no choice in the game at Friv 2018 online - you must attack and destroy them before you get caught. Move constantly and attack enemies from all sides, gather important documents and weapons such as guns, pistols, bombs to kill enemies in front.
Note that, You will receive different missions in each level. So, try your best to finish the task before the time finishes. The difficulty level of each level will be increased significantly. So, you have to focus and observe every direction to make the best plan in every situation. Ready to relieve stress? Besides, our website – http://friv3play.net/ also will provide many interesting games such as Iron Snout.Try them now!
Controls:
Use arrow keys to move, space to attack.
friv3play.net
Rating:
3
out of
5
based on
2
user ratings