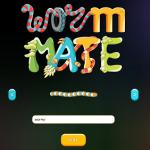 Wormate.io
Wormate .io is one of the most attractive multiplayer IO games in which you can meet and make friends everywhere around the world at Friv 3 online games. This game will help you expand as well as develop many necessary skills in life such as the ability to react quickly, observation and vision thinking.
In this game, you will control a snake that must move constantly on the screen and collect the sweet candy, cake and useful objects. At all costs, you have to help him collect as many sweet candies as possible and get bigger and bigger in the battle at http://friv3play.net/
In particular, there are many magic boxes on the screen. They will increase the size and length of your snake in the fastest way. The more sweet cakes your snake eats, the larger your snake is in the game at Friv 3 player games. Eat! Eat! Eat! It sounds very interesting, right?
Apart from eating to increase the size, another important mission for you is that you have to avoid facing other snakes which are bigger than you. Or if you want to attack other snakes, you just have to make them crash into your body and destroy them. Haha! After they die, you can collect a pile of energy and become stronger at Friv games 2017.
One more thing, this game has eye-catching graphics and colorful images at frivgames. They will take you to another great world with many new experiences. Hurry up to explore more with some similar games such as slither.io, wormax.io on Friv3play.net .Much fun!
How to play?
You only need to use your left mouse to play.
friv3play.net
Rating:
4.5
out of
5
based on
2
user ratings