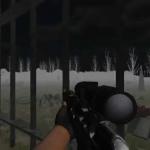 Z Day Shootout
Z Day Shootout is a thrilling zombie shooting game in which you are one of the few survivors in the post-apocalypse world. The world we know is no longer the same. everything has changed since a dangerous virus spread globally. Human is turned in to undead. And the survivor has to find all means to survive. Hiding is not the best way to escape from this disaster. As a survivor, you must fight back for your own life.
Here at http://friv3play.net/, everywhere you go, it has been occupied by zombies. To protect your self and other people, you must kill all the zombies at all costs. You don't have to find them because they will come to you. At the second they appear, you should shoot down them immediately. Don't waste any seconds, otherwise, you waste your life. On Friv 3, you pick up your gun and ready for the fight.
Look around and be careful, they come from all directions. Besides, it's dark outside, you must observe carefully to aim and shoot. Try not to miss because whether you live or die will be decided in a second. Change weapons if you want, reload quickly, pick up useful items, run if necessary, then shoot them down. Good luck, brave man. If you want to test your skills in more games like this one, why don't you play Rapid Gun 3 and ShellShock Live 2? Enjoy!
Controls:

WASD to move, mouse to aim and shoot, mouse wheel to change weapons, R to reload, F to pick up items, left shift to run, left ctrl to crouch, X to prone and space to jump.
friv3play.net
Rating:
5
out of
5
based on
2
user ratings