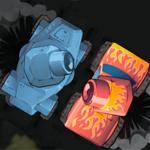 BassDrop
When it comes to battles between tanks, people often think of something fierce, heavy armored vehicles and explosives. However, these things aren't found in BassDrop - one of the most awesome IO games at friv3 Games to play. Why? What do you expect in this game? All you have is fun gaming experience and great time moment with other players around the world.
Simple but challenging, acting fastly is the key to reach the victory. Besides, your driving skill also plays an important to you help you survive. This is a survive battle where your ultimate goal is to eliminate other tanks to the become the king of the battlefield. To do that, you use your bass cannon to blow other tanks out of the battlefield. However, you must watch out everything because you are also the target of other players.
At here, you not only die because of your opponents but also because of falling down by yourself. When you enter the loose area, the floor falls into space and you too. So you should move fastly to the firm area. You have 3 lives on each battle. Lose 3 lives and you are out. Try to survive as long as you can. The fast-paced battle lasts in about 78 seconds. It's quite short but enough for you to feel the heat of the battle. Don't forget to collect coins to earn extra points. Hope you have a great time here! If you want to find other games as fun as this one, you should know that various choices are available at http://friv3play.net/. Visit and play ShipWrecked.space or Bighero.io. Good luck!
How to play: Use your mouse to move, left click to shoot and right click to jump.
friv3play.net
Rating:
5
out of
5
based on
1
user ratings