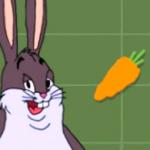 Big Chungus
IO games always attract many players due to its competitiveness, fun, simple and addicting gameplay. Now, let Friv Online 2019 introduce you a new IO game have just been added to our site that definitely captures your eyes right away after a few seconds. This game is called Big Chungus.
What are you going to do here? Well, the rule is simple, you need to beat other players around the world by searching and collecting as many carrots as possible. As you eat carrots, you grow bigger. Having a big size gives you so many benefits on http://friv3play.net/. The most important benefit is to allow you to eat other rabbits who are smaller than you. Yes, it's true. You don't get it wrong. As a rabbit loves vegetables, you can eat the flesh of animals of its own type to surviving. If you don't do that, your opponents will hunt you for food. So, don't be afraid. When you are big enough, you should chase other rabbits and eat them to eliminate them.
Then, you will have more chance to become the winner. As you grow up, the map becomes smaller. It shrinks when you are bigger. It's an interesting effect. You can see there are many holes around the map. When you are in danger, let's quickly jump in one of these holes and you will come out from another hole in the map. A quick way to avoid stronger enemies.
Enjoy the game and have more fun with other awesome games such as The Cave Of Terror and Popular Wars
Controls: Moving around the map by using your mouse.
friv3play.net
Rating:
3
out of
5
based on
1
user ratings