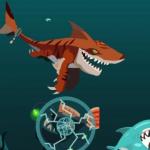 Fish Eat Grow Big
As a little light bulb fish, you have a dream of being the ruler of the ocean. However, only the biggest one can dominate the underwater world. To make your dream come true, you must eat, eat more and eat forever until you become a huge fish. The ocean is a magical world full of mysteries and dangers.
To survive is hard, to survive, grow and become the biggest one is much harder. You not only have to stay focused, be careful but also take action quickly. In Fish Eat Grow Big at http://friv3play.net/, you start as a small fish and all you need to do is to swim around and eat the smaller fish than you. You must swim carefully to avoid those are bigger than you. They don't come to you and directly attack you but if you don't stay alert, you bring yourself to their mouth. As the game processes, the difficulty increases.
More fishes will come and you feel like there is no space to swim. At the moment, you should move to the bottom of the ocean. This area is much safer because the big fishes normally gather near the water surface. It's a useful trick that you can apply sometimes. The more fish you eat, the bigger you are. As you grow up, you gradually can eat the bigger ones on friv free games. It's all about to survive. Let's see how good are you swimming.
Enjoy new gameplay in other fun games such as Ducky Adventure and Mr.bullet
Instructions: You swim around by using your left mouse, arrow keys or WASD.
friv3play.net
Rating:
5
out of
5
based on
2
user ratings