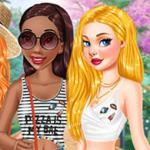 Design My Stylish Crop Top
Summer is finally here. Do love summer? It's time to put your winter outfits to your wardrobe and bring out all summer fashion items. You haven't bought any new clothes for summer, right? So why don't you design DIY outfits? The crop top is one of the best items for summer and it's easy to make too. Let's start. Design My Stylish Crop Top will lead you through every step. Just follow the detailed instructions and design a cool crop top for each Disney princesses at http://friv3play.net/
Don't worry. Making process is not too difficult. First of all, you choose a crop top design. Then, choose the materials. Which color suits each princess the best? It's up to you. Now, you can decorate your crop top with some patterns and details. From a basic white crop top, use your sense of fashion to make it stand out. Design it as the way you like. After that, you should mix your own designed crop top with a skirt or short or jean.
Mix and match with accessories, change hairstyle for each princess so they will have a new look for summer. Perform the same process and help all princesses design a perfect crop top. Each of them should have their own style. Or you can make a friend uniform for all princess so they can wear that crop top in their date or go picnic and so on. More dress up games are available. If you want to try new ones, let's start with Summer Fashion Dress Up and Princess Anna Hair Salon
Controls: Design a crop top for each character by using your mouse.
friv3play.net
Rating:
5
out of
5
based on
1
user ratings