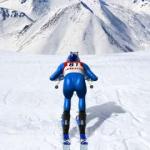 Downhill Ski
What winter sports do you want to play? Skiing, ice skating or sledding? Winter is here and snow is falling. Let's go skiing resort and have some fun with skiing. It must be a great experience on this beautiful day. Wear your ski clothes, bring your skis and go straight to the skiing field and feel the adrenaline rush. Let's forget about the technique and just have fun and enjoy the weather as well as scenes. Downhill Ski brings you to the top of the hill covered with white snow. Here at Friv3 sports games, you will slide down the hill by using your skis.
You don't have to perform any tricks but just avoid obstacles along the way by flexibly moving to left and right. If you hit these obstacles, you fall and the game is over. There are in a total of 12 amazing and challenging levels waiting for you to conquer here. You must successfully reach the finish line in the current level to unlock the next one. You should expect that the difficulty at the next level is not the same as the previous one because it increases as you level up. Be ready to deal will challenges on http://friv3play.net/.
The game tests your hand-eye coordination as you dodge obstacles and go as far as possible. Simple but challenging enough to attract everyone love skiing. Hope you have a great moment here. Don't forget to check out more fun games to play such as Hockey Legends and iStunt 2.
Instructions: Use right and left arrow key to control your character.
friv3play.net
Rating:
5
out of
5
based on
1
user ratings