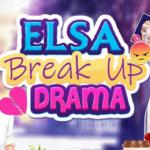 Elsa Breakup Drama
In a beautiful day, Elsa catches Anna and Jack Frost - her boyfriend talking happily together. Elsa thought Jack cheated on her and he is with her sister Anna. She is heartbroken. She cries for several days. She can overcome this shocking new. She has a talk with her best friend and they encouraged her to break up with Jack without any hesitate. To do that, she must be beautiful and perfect.
In Elsa Breakup Drama at friv girls free, you will join with her and discover the truth about it. Her break up drama includes make up yourself fabulous again, makeup to break up, dress up fabulous, wake up and break up, party with best friends, makeover to win him over, make up to impress, dress up like a diva, and wedding time. She wants you to help her to be fabulous, then she meets Jack and breaks up with him. She's sad.
To cheer her up, her bffs hold a party for her. She needs to choose an awesome outfit and an impressive makeup. However, at the party Anna told Elsa the truth that she and Jack just chose the wedding ring for her together. It's a disaster for Elsa. Now, she is heartbroken once more time. She needs makeup gorgeously to win Jack over. Jack is a gentleman and he forgives her immediately.
They are back together on http://friv3play.net/. He proposes Anna and she accepts happily. Your final mission is to pick out for Elsa a perfect wedding dress. Hope they live happily forever. Such an emotional drama. Enjoy! Check out more games on our sites about Elsa and Anna such as Elsa Wedding Design and Princess Anna Hair Salon.
Instructions: Using your left mouse to perform the action.
friv3play.net
Rating:
4.6
out of
5
based on
5
user ratings