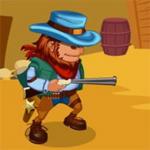 One Hand Cowboy
A shooting competition is about to be held, to find the best gunner in the region. You have to practice so hard to join this competition and get the title of the best cowboy ever. With only one hand, you believe that you can dominate this conquest and become the champion. To join this event, you must finish 12 challenging levels with the perfect score. Conquer all levels in One Hand Cowboy at http://friv3play.net/ to horn your shooting kill and have the ability to deal with every situation. As you level up, the difficulty significantly increases.
In each level, you have only 3 bullets and 30 seconds to shoot down the target. Try to use as less bullet as possible to shoot the target in the shortest time to earn more scores. In some first levels, the target stays still but in later levels, it moves constantly. It makes you find it much harder to reach your goal. On friv 3, you press your mouse and release it to shoot. Adjust the angle to make a perfect shot. This game is easy enough for kids to play and attractive enough to attract adults to spend time enjoying.
The gameplay is easy to play but hard to master. It seems to be easy but actually challenging. You may have to play several times to complete a certain level. Let's see how can you conquer this game. Good luck and have fun! If you want to find more enjoyable games to play in your spare time, you have tons of choices here such as Storm City Mafia and Strike Force Heroes 2
How to play: Press and release your left mouse to shoot.
friv3play.net
Rating:
1
out of
5
based on
1
user ratings