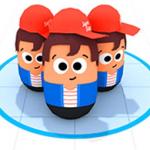 Popular Wars
With cute graphics and awesome mechanics and smooth gameplay, Popular Wars is definitely one of the best games at friv online games that you simply can't put down! Prove your popularity by gathering as many followers as you can. Simply running around the city and make the while people become your team member. Just make them stand in your circle and they turn into your people immediately. In the beginning, you should stay away from other people.
You should focus on gathering people to become bigger as fast as possible. Once you are larger than your opponents, if you move over them, you will gain their followers and destroy them in the meantime on http://friv3play.net/. Just gathering the white ones walking around the street is not fun enough. The game increases the competitiveness by letting all players steal followers of the opponents and eliminate each other. When entering the battle, each player has their own color to distinguish each other. You can track your opponents by looking at the arrow present each of them.
This allows you to know where they are now to avoid if you are small and which direction you should follow if you want to chase them and steal their followers. Within 2 minutes a match, you should take advantage of the time to gain your new team members and eliminate other players. Don't be lazy. Let's move constantly and search for new members to become the largest team compared to your opponents and you are the winner. Have a great time here.
You may also like: Cannon Hero and Crowd City
How to play: Move and gather everyone with your mouse.
friv3play.net
Rating:
5
out of
5
based on
1
user ratings