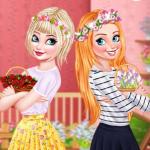 Princesses: Florists
Girls love flowers. It is an unquestionable fact. Elsa and Anna is not the exception. Today, they come to the flower shop and prepare the right flowers for a different occasion. But first, they need to change their outfit. Princesses: Florists is an awesome girls friv game that kids and girls will fall in love for sure. It is divided into 2 parts. The first part is to help Frozen sisters choose a fabulous outfit. The second part is to buy flowers. Are you ready to enjoy a great gaming experience? Let's start the show.
Today is a beautiful day with sunshine and fresh air. Each princess wants to wear a dynamic or girly outfit to go out. They have many fashion items. You can mix and match to make different outfits with the different styles. A top and a jean bring dynamic look while a dress makes our princesses look feminine. On http://friv3play.net/, it's up to you to pick out the best for each of them. Besides, accessories are important. Some accessories like a hat, flower headband, earrings, necklaces or bracelet will make them more stand out.
After everything is done, they are ready to go to the flower shop to buy some flowers. They will attend the wedding ceremony, graduation, and romantic interest. You have to choose a suitable wrapping paper or flower basket, flower type and ribbon or a bow for each occasion. Use your creativity to prepare. You can meet Elsa and Anna in other girls games such as Ariel's Love Breakfast For Eric and Frozen Sisters Winter Escape.
Controls: Change the outfit and choose flowers by using your mouse.
friv3play.net
Rating:
4.25
out of
5
based on
4
user ratings