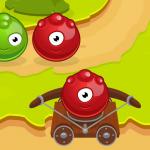 Bubble Defence
Bubble Defence is an interesting puzzle game combined with tower defense element which is both entertaining and challenging. Imagined that you are the king of a kingdom. Wave after wave of enemies is coming to invade your land. As a king, you don't let it happen, do you? Just use your cannon launcher to defeat them and protect your land. The rule is straight forward.
At friv 3 online 2019, you just need to shoot the ball to the group of more than 2 balls of the same color to destroy them. The color of the bullet ball must be the same as the target balls. You should try your best to shoot at the target accurately because if you miss the shoot, you add to your enemies more members. If your enemies reach the end of the road, you lose. Stop them before they get there. As you process, you will unlock some power-ups which help you complete a certain level easier. On http://friv3play.net/, you should check out the achievements to earn rewards.
Try to make combos to get extra scores. There are many levels are waiting for you ahead. Be sure to complete the current stage to move to the next one. As you level up, the difficulty increases a lot. Be well prepared to beat all levels with 3 stars. This game is simple enough for children and attractive enough for adults. If you want to find something more thrilling and challenging, then check out Pick A Lock and Celestial Fall
Have a great time here.
How to play: Use left click to shoot.
friv3play.net
Rating:
1
out of
5
based on
5
user ratings