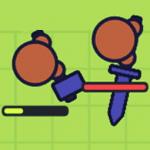 MooMoo .io
MooMoo is an entertaining and challenging multiplayer IO game combine with strategy and building elements. It not only tests your fighting skills but strategy and building skills. Your main mission is to build a powerful village. To make it come true, you use a hammer to gather all resources such as woods, stones, food and more. Wood and stone are used to build walls to protect your village at Friv 3 play
Wood walls provide protection for your village while stone walls provide improved protection. Win minds play the most important role in your village because it generates gold over time, so you have to build walls to protect them. Make sure to protect them from other players on http://friv3play.net/. You place spikes around your village to damage enemies when they touch them. Collect apple to restore 20 health when consumed. Collecting resources make you level up. It's really important because you will be stronger as you level up. Besides focusing on building, you also watch out your enemies.
They can attack you anytime. So you have to keep an eye on other players around you all the times. Fight back or stay away from those who have a higher level than you. As you level up, you access many upgrades to expand your village more and enhance yourself. Gathering, building, and fighting to become the dominator of the leaderboard. Good luck and have fun with other players around the world. Enjoy more games on our sites such as Knifez .io and Beetles .io
Controls: WASD to move, mouse to look, mouse/space to gather/attack, E to auto attack, 1-9/left mouse to select items, Q to select food quickly.
friv3play.net
Rating:
4.3333333333333
out of
5
based on
3
user ratings