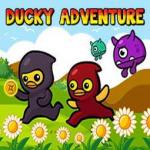 Ducky Adventure
Join 2 duck ninjas in an amazing adventure in Ducky Adventure at friv online games. They are going to find a hidden chest full of treasures around the kingdom. Do you want to join them? They are happy to accompany you. Let's start. Surely you can't wait to open treasure chests, right? This adventure game is a great choice for you to play with one friend. Each of you controls a duck ninja.
Or if you want to challenge yourself, you can play alone, control both of them. There is in a total of 20 levels available here. Besides reaching and opening a chest to finish each level, you also have to complete a certain mission such as collect 10 coins and so on. You collect coins along the way. However, be careful because there are many traps and obstacles waiting for you ahead. Jump over the walls, jump over the dangers and reach the chest at the end of every level to move to the next stage on http://friv3play.net/
Remember that each ninja has only 3 lives. If you touch an enemy or a trap, you lose a life. If you play alone, let's control each ninja each time. It's much easier for you to complete a level than controlling 2 heroes at the same time. A level is completed when both of them reach the chest and you succeed in the bonus mission. As you level up, you will find it harder to beat the level because more enemies and traps will appear.
Good luck and have a great adventure with 2 cute duck heroes. Other journeys are waiting for you in Mr.bullet and Space Jump. Enjoy
Player 1: Arrow keys to move.
Player 2: WASD to move.
friv3play.net
Rating:
2
out of
5
based on
5
user ratings