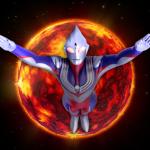 Ultraman Planet Adventure
Ultraman is back. Do you like superhero Ultraman? Then, let's join him in an adventure of saving the city from hordes of monsters. Ultraman Planet Adventure is an interesting action combines with adventure and platform game in which you help Ultraman defeat all enemies through the whole universe who are trying to destroy the world. With the strength and sense of justice, both you and Ultraman can't let their evil plan success.
Here at http://friv3play.net/, you can fight against enemies alone in Single-player mode, or cooperate with your friend to save the world with 2 Player mode. Like other actions and platform games, you jump over the obstacles and use your power to defeat enemies. You have 3 lives in each level. However, if you lose a life, you can add more lives by collecting hearts along the way. Quickly use your shield to avoid an enemy's attack.
One important thing is that don't forget to collect coins to upgrade your Ultraman on friv online 2019. This game has a total of 15 levels. 15 levels will lead you from this planet to that planet until you approach the Sun. In each level, you collect coins, defeat enemies, save your life from dangers and reach the exit to move to the next level. The rule is simple, isn't it? The fate of the whole world is up to you and Ultraman.
Both of you have to try the best to win over the powerful evil forces, otherwise, our world will be destroyed. Good luck! Enjoy more action moments with Drag'n'boom Online and Cap Boy Run
How to play:

WASD to move, J to attack, K to use a shield, L to add health, double W for 2 consecutive jumps.
friv3play.net
Rating:
2
out of
5
based on
5
user ratings