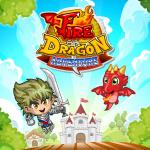 Fire Dragon Adventure
What do you expect in an adventure? Full of fun and smooth like butter or combine will some thrilling elements? Fire Dragon Adventure have all of them. And you will find more awesome factors while playing. What more are you looking for? Let's equip yourself with armor and weapons and embark this exciting adventure now.
Here at http://friv3play.net/, a little hero and his loyal have a peaceful life but they feel bored because there is nothing to do. So, they are embarking on an adventure where they can do some good things like defeating monsters and save innocent citizens through the kingdom. They need your help to finish this journey. Kill monsters, dodge dangers, avoid traps and collect precious golds, stones, and treasures along the way.
The game offers a total of 16 levels as 16 different adventure for you to conquer. Each brings you to a different world with different enemies. You need to reach the exit in each stage to unlock the next one. On Friv 2019, you can play the game with your friend in a divided screen by controlling 2 characters. This feature is quite unique. You can try to play alone to test your skills, but it's really hard. Remember to observe the whole environment carefully to face against the dangers in time before you die. You just have 3 lives in each level. Other adventures are waiting for you in many fun games such as Mirror Dash and Crazy Alien Dog. Try out whenever you have spare time.
How to play: Hero - use WASD to move, W to jump and F to attack. Dragon - use arrows to move, up arrow key to jump and L to attack.
friv3play.net
Rating:
2
out of
5
based on
4
user ratings