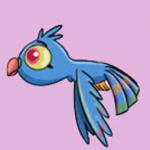 Kiwi Adventure 2
An epic adventure is waiting for you in a game called Kiwi Adventure 2. Do you want to join a bird named Kiwi on an amazing adventure that he is about to start right now? If yes, let's get ready and fly your way to having an as long adventure as possible. Just like famous Flappy Birds, you click strategically to make your bird fly through all obstacles and collect as many coins as you can at http://friv3play.net/
Don't forget to check out the mission section and daily mission section. Complete them all to get rewards. These missions include score 500 points in one game, collect 10 stars in one game, and use 1 power-up in one game. Each completed mission give you a certain amount of coins. You can use these coins to unlock new characters and buy power-ups such as a magnet to let star auto come to you, headstart to boost your starting speed or nitro to boost your distance. There are 2 new birds including Green Plane - magnet and shield last for 2 more seconds and Red Plane - nothing special.
This game on friv online is all about skillful and fast reaction. You must control the flying speed of your bird to help it avoid deadly obstacles while collecting coins. Sometimes, you need to slow down, but sometimes you should speed up. Remember to complete all missions to get extra coins. Have a happy adventure with 3 lovely birds. You can find other choices of games available on our site such as Emperors On Ice and Emperors On Ice
Instructions: Click to fly.
friv3play.net
Rating:
2
out of
5
based on
3
user ratings